Terming it disgraceful and devastating, Prime Minister Scott Morrison condemned the attack of the statue, saying vandalism of "cultural monuments will not be tolerated" in multicultural nations like Australia.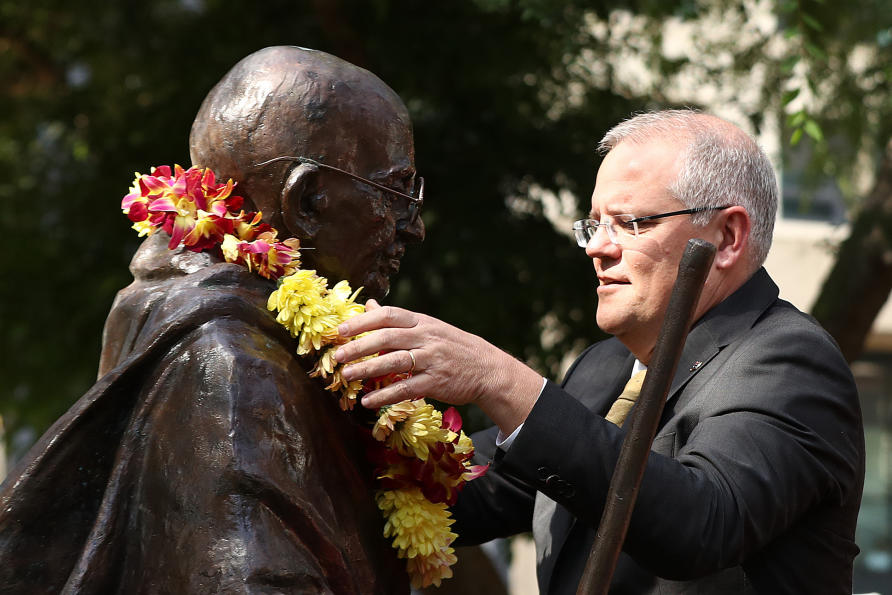 It is true that Gandhi's identity is associated with the philosophy of non-violence and the Indian independence movement. In fact, Gandhi's birthday is observed as the International Day of Non-Violence by the United Nations, highlighting how his philosophy transcends race, religion and nation states.
But, Nathuram Godse – the man who assassinated Gandhi – has come to be celebrated by some for being a true patriot. And, increasingly, there are calls to remove Gandhi's statues from locations around the world.
This backlash – from within India and around the world – seems at odds with his stature as Mahatma (great soul). So, what are the reasons for it and why is it relevant now?
Race and Gandhi
Gandhi has become a controversial figure in anti-racist and anti-colonial movements across the globe.
One of the early protests calling for the removal of a statue of Gandhi was in South Africa in 2003 which branded him a racist.
More than a decade later in 2015, a campaign #Ghandimustfall (sic) circulated and a Gandhi statue was vandalised in Johannesburg.
In 2018, another statue was removed from the University of Ghana after sustained protests from students and staff.
Ernest Aryeetey, a professor from the University of Ghana, reflected how Gandhi as a young man was "undoubtedly racist" and "showed very little interest in the afflictions of the black man." But that he was "celebrated for the things he taught the world in his later years".
This is true.
Gandhi's philosophy of non-violence inspired many leaders including Martin Luther King Jr, Nelson Mandela, and Kwame Nkrumah. However, a Ghanaian group calling themselves the #GandhiMustFallGhana Coalition says that Gandhi opposed campaigns to "free Dalits and other oppressed Blacks from the yoke of Indo-Aryan oppression."
Across the globe, the campaign to remove Gandhi's statues has become more and more common.
In 2019, students from the University of Manchester started a Gandhi Must Fall campaign. The movement was similar to the 2015 Rhodes Must Fall campaign that began in Cape Town – which led to the removal of a statue of British politician and businessman Cecil Rhodes as a step toward decolonising education and addressing existing institutional racism.
In an open letter to the Manchester City Council, the students explained that Gandhi referred to Africans as "savages, half-heathen natives, uncivilised, dirty, like animals" and was complicit in "anti-Black racism" and in the "British Empire's actions in Africa".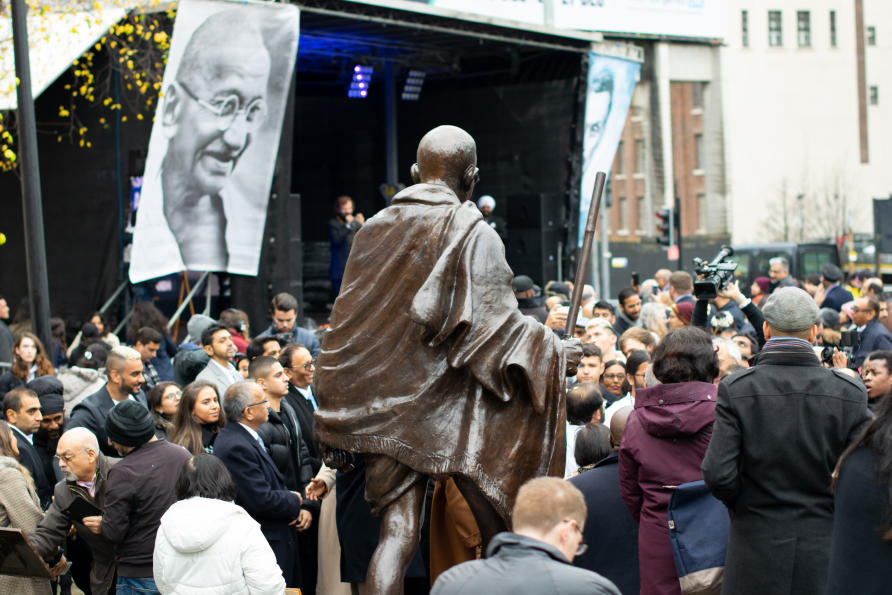 A 2020 petition by students in Canada says that removing Gandhi's statue was a "small step" towards addressing racism and discrimination.
Today, Gandhi's racist past is linked to global anti-racist justice movements, like Black Lives Matter, as one of the many historical figures that represent "anti-Black racism on Black people, on Black bodies".
Religion and Gandhi
Since India's independence in 1947, Gandhi has been recognised as the father of the nation in India and is affectionately addressed as Bapu (father).
His portraits adorn the walls of police stations, court rooms, educational institutions and government offices. Despite calls to print the faces of more leaders on Indian currency, Gandhi's is the only face that appears because "no other personality could better represent the ethos of the country than Mahatma Gandhi."
However, Gandhi's legacy is increasingly contested within India too.
The life of Gandhi and his vision for the future is associated with India's principles of secularism and rights for all religious groups. The right to religious freedom is actually enshrined in the Constitution of India.
But these principles are now losing favour as Hindu Nationalism gains currency and the possibilities of changing the constitution are also now being considered.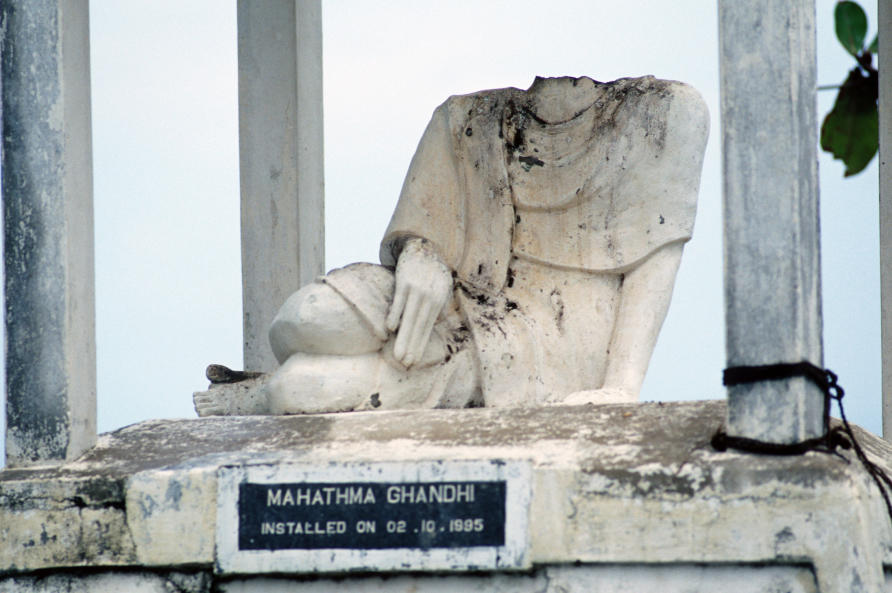 Among the vocal voices condemning Gandhi, calling him a betrayer, are members from the Hindu nationalist associations in India. It is important to clarify that these views are expressed by some members of these associations; they are not necessarily the stated positions of the associations themselves.
Some of these people now glorify Godse and celebrate him as a patriot today, while blaming Gandhi for dividing the country and upholding anti-Hindu biases.
Caste and Gandhi
Most Dalit leadership criticise Gandhi for not going far enough to dismantle India's caste system.
As an Upper Caste leader, Gandhi opposed the Dalit leader Dr Bhimrao Ramji Ambedkar's demands for a separate electorate for India's marginalised communities belonging to the scheduled castes (SC). Gandhi began a fast 'to the death' and only relented when Dr Ambedkar compromised.
But it's notable that Gandhi did not object to similar provision for Muslims or Sikhs.
Known as the Poona Pact of 1932, these decisions significantly shaped the fate of Dalit political representation in post-colonial India. It also underlined the fundamental ways in which both Gandhi and Dr Ambedkar viewed caste.
Gandhi saw untouchability as merely a social evil and believed that caste system should be integral to society. Endorsing the top and bottom castes in the hierarchy, he wrote: "The Brahmin's duty is to look after the sanitation of the soul, the bhangi 's that of the body of society".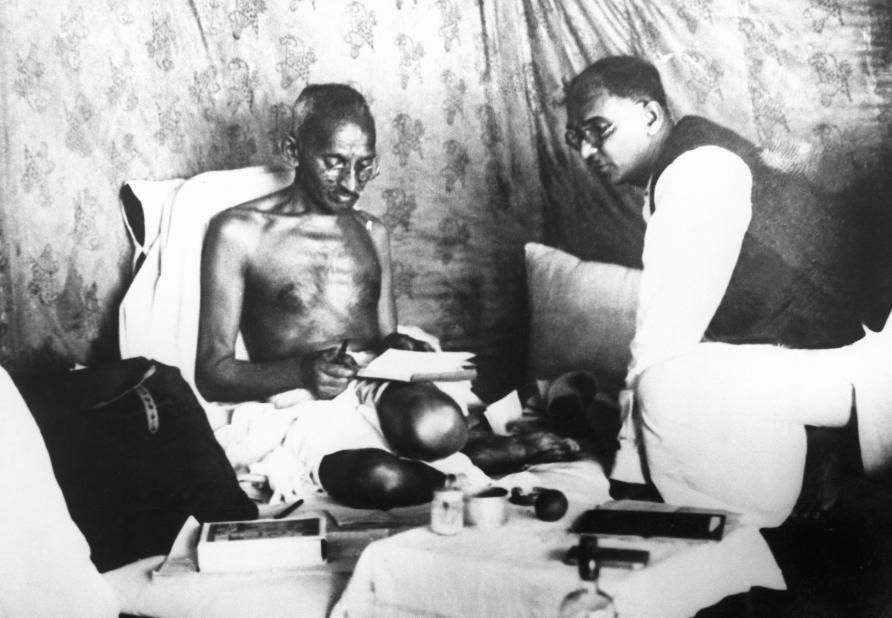 In contrast, Dr Ambedkar considered caste as integral to Hinduism and an anti-thesis of equality.
Today, some accuse Gandhi of establishing a Brahmin rule in independent India. Among Dalit rights' groups, there are now demands to replace Gandhi's upper caste principles with Dr Ambedkar's revolutionary visions.
The call to reassess Gandhi as a monochromatic icon of non-violence and revaluate many of his angular, sometimes reactionary, views of the world has come from different groups of different political persuasions.
The student protests in campuses around Africa, as well as the sustained criticism from Dalit activists and their allies, find common cause in highlighting the awkward views Gandhi held as an upper caste Hindu.
However, these views are far removed from the current attacks from right-wing, upper caste Hindu ideologues.
The criticism from this end of the political spectrum feels that his constant appeals for piety and unity between various communities was the reason behind the partition at the time of India's independence, as well as the privileges religious minorities enjoyed in independent India.
As the ideals of equality and justice take centre stage in public discourse, Gandhi's views that supported inequality and injustice – even if they were early in his life and even if such support was implicit – will continue to be scrutinised in the times to come.
Banner: Getty Images